Compact Power zoom
10-20mm F4 G Lens
The smallest, lightest F4 ultra-wide APS-C power zoom
The world's smallest and lightest constant F4 ultra-wide-angle APS-C power zoom lens 1 offers outstanding mobility and superb image quality for both stills and movies. Smooth, versatile power zoom provides speed and framing control that brings extra expression to dynamic ultra-wide visual perspectives.
The world's smallest and lightest1
Just 55 mm long and weighing a mere 178 grams (2-1/4 inches, 6.3 oz.), this is the world's smallest, lightest F4 ultra-wide-angle power zoom lens.1 Thanks to internal zoom and focus, the lens does not change in length when zooming or focusing, providing a stable center of gravity that is ideal for vlogging and gimbal-mounted shooting. Outstanding mobility makes it a great choice for a wide range of situations.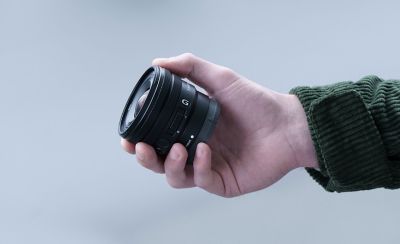 Dynamic perspectives and imagery
A 10 mm (35mm full-frame equivalent: 15 mm) focal length at the wide end of the zoom range provides extremely wide angles of view that can easily cover sweeping scenes or reveal more in small spaces. This versatile lens can also deliver dynamic images utilizing unique perspectives, effectively separating the subject from the background, and emphasizing distance or speed in movies.
Outstanding optics in a compact lens
Three aspherical elements suppress field curvature and astigmatism while an ED (Extra-low Dispersion) aspherical element subdues chromatic aberration for high image-wide resolution throughout the 10 to 20 mm zoom range (35mm full-frame equivalent: 15 to 30 mm). Natural-looking G Lens bokeh can deliver striking expression with this lens's 0.2-meter minimum AF distance and 0.13 ~ 0.17-meter minimum MF distance.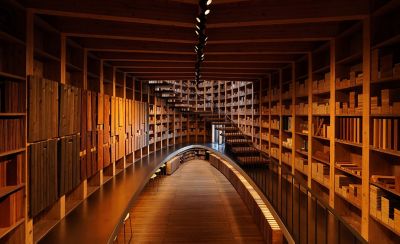 Responsive power zoom
A new electronic power zoom system instantly converts zoom ring rotation to actual zoom operation so that the creator's intent is faithfully captured. There's also a zoom lever that makes it easy to execute super-slow constant-speed zooms that are difficult with manual zoom. Zoom can also be controlled remotely from the optional GP-VPT2BT grip, RMT-P1BT remote commander, or the Imaging Edge Mobile application.2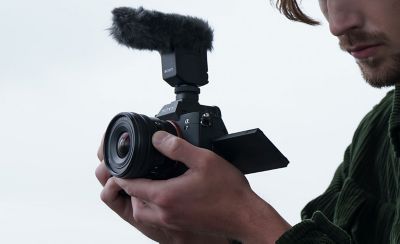 Extraordinary AF for stills and movies
Two linear motors ensure fast, quiet, low vibration autofocus that can smoothly track subjects when shooting high frame-rate movies and reliably follow fast-moving subjects when shooting stills continuously at high speed. Focus is especially critical when shooting 4K or 8K movies, particularly while zooming. This lens easily acquires focus and tracks challenging subjects smoothly and silently.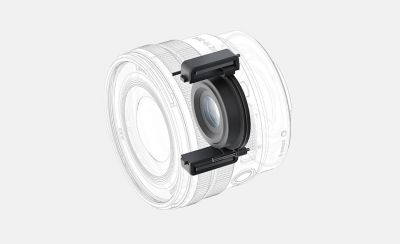 Configuration, MTF, Control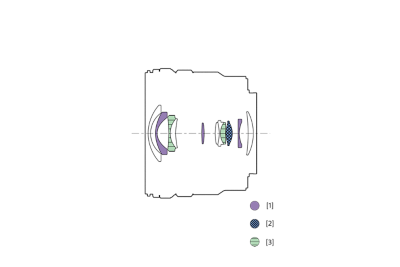 Lens Configuration
Impeccable Sony G Lens design emphasises a graceful balance between high resolution and gorgeous background bokeh that can enhance the artist's vision.
[1] Advanced aspherical lens (AA lens)  [2] Aspherical lens  [3] ED (extra-low dispersion) glass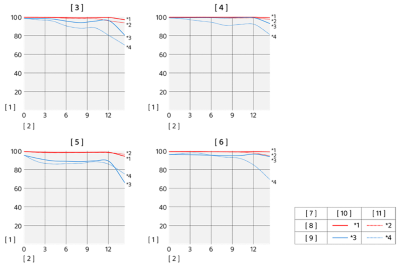 MTF Chart
MTF (Modulation Transfer Function) describes how well a lens can reproduce fine details, measured as the degree of contrast achieved between finely spaced lines.
[1] Contrast (%) [2] Distance from optical centre of lens (mm) [3] At 28 mm/Max. aperture [4] At 28 mm/F8 aperture [5] At 60 mm/Max. aperture [6] At 60 mm/F8 aperture [7] Spatial frequency [8] 10 line pairs/mm [9] 30 line pairs/mm [10] Radial values [11] Tangential values
Lens Controls