Compact 4K Video Cam with Onboard Stereo Mics
Put your audience where the action is with the Zoom Q2n-4K Handy Video Recorder from Sweetwater. Live performances, concert captures, documentaries, behind-the-scenes footage, even personal monitoring and evaluation — it's all presented in crisp 4K video and lifelike stereo. A wide-angle 150° lens and onboard 120dB XY stereo condenser mics ensure you never miss a moment in front of the camera. Just point and shoot. Twelve switchable scenes, five field-of-view settings, and an Auto mode adapt this recorder to any lighting and filming environment: dark stages to bright outdoor settings. Once you've got the shot, review film via the Zoom Q2n-4K's micro HDMI and 1/8″ audio output and then share directly to Facebook, YouTube, and Twitch.
Your Online Presence Made Simpler
To the watching world, you hardly exist without a strong social media presence. Fortunately, the Zoom Q2n-4K makes it easier than ever to capture and share moments online. No bigger than a typical mini action cam, the Q2n-4K boasts lifelike stereo audio to match its stunning 4K/30 fps video capture. And using it couldn't be simpler. Here's a look at some of the highlights.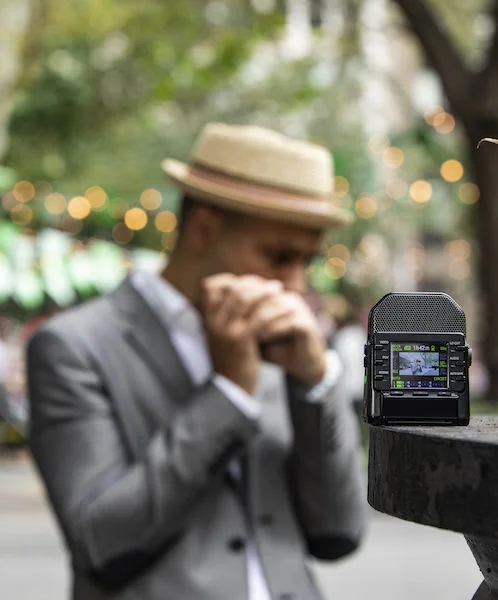 Video Features
Crisp 4K video capture
Video resolutions up to 4K (at 30 fps) equip the Zoom Q2n-4K to broadcast your performances and special moments in glorious high resolution. Frame rate can be extended to 60 fps at a resolution of 1080p for smoother motion and enhanced slo-mo effects.
150° lens never misses a moment
A single Q2n-4K Handy Video Recorder can capture the whole stage yet still remain close enough to get excellent stereo sound. That's because Zoom outfitted this tiny camera with a sophisticated 150° ultra-wide-angle lens. And with five field-of-view settings, you can easily go from covering the entire band to zooming in on a single performer.
Clear imaging for dark clubs to bright outdoor settings
The Zoom Q2n-4K combines a fixed F2.8 aperture, precision optics, and powerful onboard image processing that allows you to get great footage in any environment. Choose from 12 preset scenes that cover everything from dark clubs to bright outdoor settings. Sweetwater was particularly impressed by the Concert Light scene that automatically compensates for stage lighting, ensuring that even the most energizing light show won't ruin your footage.
Audio Features
XY mics deliver phase-coherent stereo audio
Fixed XY mics onboard the Q2n-4K deliver the stunning sound quality Zoom is known for. Whether you stick your Q2n-4K Handy Video Recorder a few feet from your acoustic guitar, hang it 10′ above your piano, or place it out in the audience while your band performs, you'll get amazing sound in detailed stereo. An added bonus, you can disable the camera and use the Q2n-4K as a standalone 24-bit/96kHz audio recorder.
Digital audio resolution for music professionals
In an era of popular digital action cameras, it's refreshing to see one designed and marketed for serious musicians. Zoom has long set the standard in music-oriented video cameras and recorders, and the Q2n-4K's 24-bit/96kHz audio resolution delivers the impressive sound quality Zoom users have come to expect. With 120dB SPL of distortion-free dynamic range, feel free to stick your Q2n-4K under your cymbals, on your amp, or anywhere else you need it.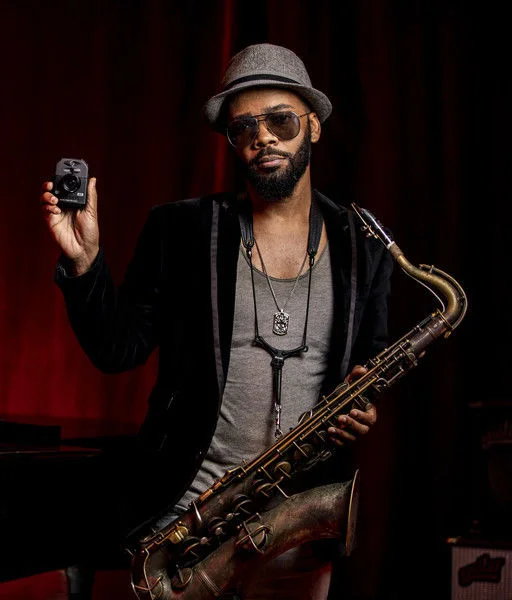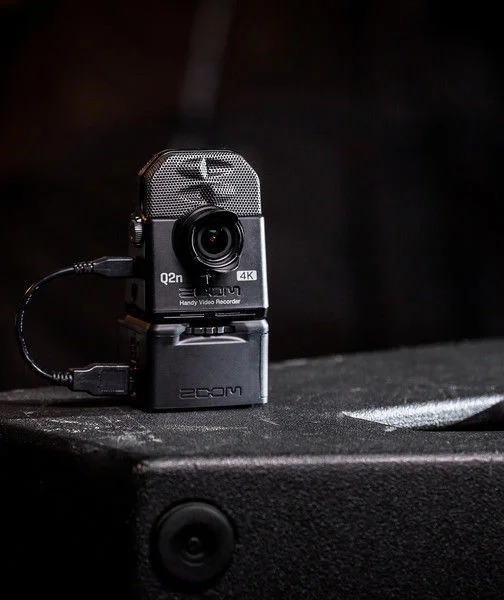 Compact and Convenient
Small, portable, and ready to record
The Q2n-4K Handy Video Recorder fits in your pocket as easily as it fits in your workflow. Toss a few in your gig bag or backpack, and you'll never know they're there. Thanks to the amazing storage capacity of today's card media, you can record up to 256GB on a single SDXC card. And you never have to deal with proprietary rechargeable batteries, since the Q2n-4K will record video for up to two hours on a pair of regular AAs. Third-party USB chargers (not included) keep you filming through extended sessions.
Easy controls, awesome flexibility
For as small as it is, the Q2n-4K is incredibly easy to control. For starters, there's a highly detailed LCD screen on the back that lets you frame your shots quickly and access settings easily. Speaking of easy, it doesn't get more user-friendly than single-button recording. No fuss, no confusing button sequences, just press it and go. When it's time to check your video, you can hook up a set of headphones to the 1/8″ jack, plus there's another 1/8″ input for external mics or other gear. What's more, you can take your video to the big screen via HDMI.
Recording formats to support pro workflows
The Zoom Q2n-4K Handy Video Recorder makes it easy to edit outside the box by recording in the most standard and widely compatible HD format out there — MPEG-4 MOV files. Choose from 4K, 1080p, or 720p resolutions at 24 to 60 frames per second* for a truly professional look.
*4K video is available at 30 fps only
Share clips instantly over social media
What's more, you can use your Q2n-4K as a webcam, allowing you to livestream your performances to Facebook, YouTube, Twitch, and more. This is just another reason why the Zoom Q2n-4K Handy Video Recorder is the savvy musician/entertainer's best friend.
Zoom Q2n-4K Handy Video Recorder Features:
Compact 4K video cam with onboard XY microphones
Capture moments in glorious 4K/30 fps or 1080/60 fps HD
Lifelike stereo audio complements the Q2n-4K's hi-res footage
Wide-angle 150° lens ensures you never miss a moment
5 point-of-view settings — capture entire stages or single performers
12 preset scenes to cover a range of indoor and outdoor environments — even dark stages
Stereo XY mics with high 120dB SPL handling put your audience where the action is
Conveniently share clips directly to YouTube, Facebook, Twitch, and more
Support for microSDXC cards up to 256GB (not included)
Doubles as a standalone 24-bit/96kHz audio WAV recorder
Full webcam capability (free driver download required)
Powered by 2 AA batteries (included) or third-party USB charger (sold separately)
Onboard speaker for impromptu monitoring
Audio connections:1/8″ headphone out, 1/8″ stereo mini input
Video connections:HDMI micro Type D
Included lens hood combats glare effects from overhead lights